Idris Elba calls Kanye West's 2015 Brit Awards Performance A 'Visionary Salute' To Grime
Kanye West's performance at the Brit Awards will probably go down as one of the memorable music moments from 2015. For many, it was a moment to be celebrated – Kanye brought the whole Grime scene to the Brits! Was a common response – a triumphant mobbing of the stage by some of the biggest names in a scene that has generally been ignored by the British music scene. However, some criticised the performance as they felt that the likes of Skepta, Novelist, Krept & Konan and Stormzy looked nothing more than menacing backing dancers, and many fans were disappointed that at no point were they passed the mic.
Even though the performance has split opinions, Idris Elba is clearly on the side which feels that the performance should be celebrated and championed. During an interview with Shortlist, Elba shared his thoughts on Kanye West's performance, saying it was a "massive salute" to Grime music. Speaking on the performance, he said: "I thought it was a massive salute to the British industry.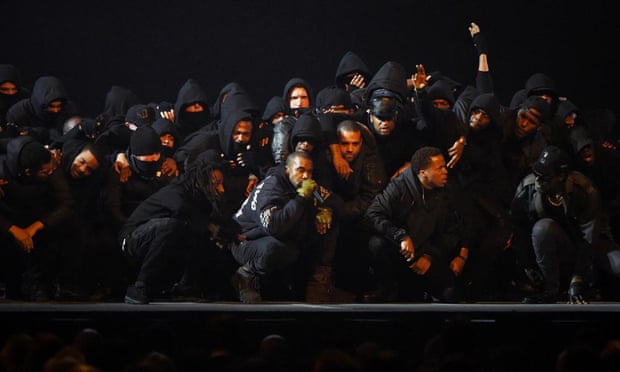 "Someone like Kanye - who is known worldwide for rap music - acknowledging that Britain, this little island, has really good wicked rappers just as good as him, at the Brits? That's massive."
Elba added: "Those rappers would probably never be at the Brits. And the likelihood that their music would ever become as internationally known as Kanye's is also challenging.
"But with Kanye [bringing them on stage] it makes it easier. Everyone goes, 'OK, let's have a listen then'. It's wicked. I give Kanye mad props for doing that. I thought it was visionary of him."
Idris Elba's positive thoughts on the performance bares many similarities to Wiley's opinions on the Brits performance. Sharing his thoughts on how the performance was a great moment for the Grime scene, Wiley told NME:
The Brits is out of my league. Unless I make another 'Heatwave' or something that'll sell millions and millions for 10 years solid, the Brits are never gonna look at me. But this year, Kanye West opened a door that's closed to most of us. There's no way Skepta or JME or Novelist or Stormzy were gonna get onstage without Kanye doing that. The doors are still shut in a way, and what he did won't just happen again next year, but people will be more open-minded about the people he got into the building and onstage.
The statement he made at the Brits was: I can walk in and out of here as I like, 'cos I'm Kanye West, even though you don't like me for ranting at Taylor Swift. And what I'm gonna do, Brits, is bring out a king, Skepta, and 25 MCs from his grime scene, who you wouldn't usually let in here in any shape or form. I'm gonna bring 'em out and let you know they're with me and you cannot stop it.
And that is power. But it's not a power we've got, it's the power Kanye's got. It's amazing. It was a massive statement. Kanye came in and helped my scene make it. And when I say my scene, I just mean people who are part of that culture, rather than us as grime or UK rap or us from the council estate whose parents had milk tokens.